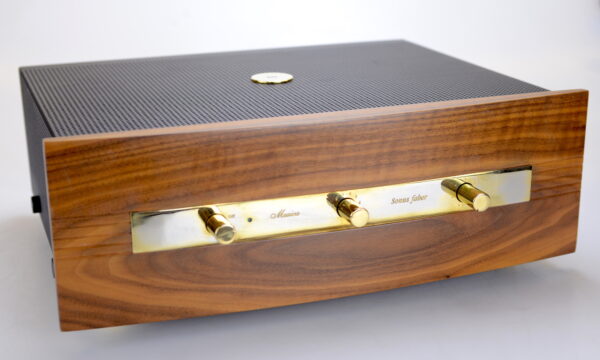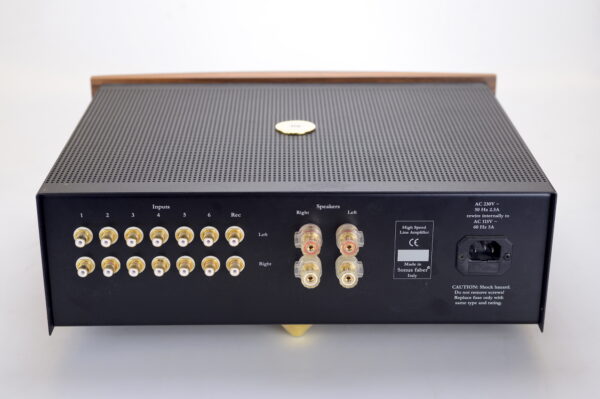 Sonus Faber Musica used excellent
1.950,00€
Descripción
Sonus Faber Musica used in excellent condition
The Sonus Faber Musica is the perfect expression of the Sonus faber philosophy, embodying simplicity while representing the quest for the finest sound reproduction possible. This pure and simple design, while state-of-the-art in terms of technology, contrasts with the sophisticated technical considerations applied in its conception and construction. In creating this amplifier, Sonus faber did not regard absolute power as a design objective, but instead concentrated on musicality, involvement and emotion. In a sense, the Musica had been designed by music lovers, for music lovers. Naturally, the Musica is as heavily wooded as expected from a marque with Sonus Faber's traditions.
Power Output: 100 watts x 2, 4 ohms / 50 watts x 2, 8 ohms
Dimensions: 17 x 13.5 x 6 inches (WDH) 425 x 335 x 155 mm (WDH)
Low impedance dynamic drive capability
Dual JFET differential input with double bootstrapping
Mechanical input selector with switched ground line
9/10 = Excellent; Zero Scratches; Very Light Use; Looks Nearly New
9/10 = Excelente, sin rayadas, muy poco uso, parece casi nuevo
Nuestro servicio de entrega funciona cada día con el fin de haceros llegar vuestros pedidos en 48 horas o menos.
Con el proposito de que el materia llegue en las mejores condiciones, nuestro embalajes estan hechos con el máximo esmero, todos nuestros envios, tambien estan asegurados en caso de extravio o rotura.
Surely many of you know our physical store, many of the fans of Vintage HiFi and collecting has visited us. Because many of our friends can not visit us by distance, we decided to strengthen our website, so you can see our products almost coughing from your devices, so if you see something that may interest you, you can place your orders comfortably from your house.
At the time of placing your order, we will make the shipment quickly so that you can enjoy it as soon as possible in your home.
Our delivery service works every day in order to send your orders in 48 hours or less. With the purpose that the material arrives in the best conditions, our packages are made with the utmost care, all our shipments are also insured in case of loss or breakage.
Hay existencias