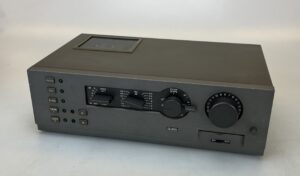 QUAD 44 preamp
700,00€
Descripción
QUAD 44 preamp
Very good condition, full working
The Quad 44 has five inputs, Disc, Tape 1 and 2, Radio and Auxiliary, which will terminate correctly virtually every applicable programme source available now and in the foreseeable future.
All five inputs are interchangeable, so that any combination of inputs can be obtained, and options such as moving coil pickup, or microphone inputs can be included.
The 44 has tone controls, consisting of Filter, Bass and Tilt which enable the listener to correct for those acoustic problems which are amenable to frequency response shaping.
Used intelligently these controls can improve the results obtained from almost any programme.
The performance of the amplifier meets the simple Quad criterion, that programme fed through the unit shall suffer no audible degradation, in other words, with the filter switch in the Cancel position there shall be no audible difference between the programme at the input to and output from the unit, when compared at identical levels.
This is true for all inputs when used with their specified source impedances and within their input signal limits.
The Quad 44 will sound no better, or worse than the programme fed into it.
Construction and inherent reliability continue in the Quad tradition and reflect care in both design and workmanship.
It is extremely unlikely that the unit will become outdated, since any future developments in programme source or circuit technology can readily be accommodated simply by changing input modules.
Specifications
Frequency response: 30Hz to 20kHz
Total harmonic distortion: 0.05%
Input sensitivity: 3mV (MM), 100mV (line)
Signal to noise ratio: 72dB (MM), 86dB (line)
Output: 100mV (line), 0.5V (Pre out)
Dimensions: 321 x 103 x 207mm
Weight: 4kg
Seguro que muchos de vosotros conoceis nuestra tienda física, muchos de los aficionados al HiFi Vintage y coleccionismo nos ha visitado. Debiso a que muchos de nuestro amigos ni pueden visitarnos por la distancia, hemos decidido potenciar nuestrio sitio web, por lo tanto podreis ver casi tosdos nuestro porductos desde vuestro dispositivos, así que, si veis algo que os puede interesar, podreis hacer vuestro pedidos comodamente desde vuestra casa.
En el momento de hacer vuestro pedido, haremos el envío rapidamente para que podais disfrutarlo lo antes posible en vuestra casa.
Nuestro servicio de entrega funciona cada día con el fin de haceros llegar vuestros pedidos en 48 horas o menos.
Con el proposito de que el materia llegue en las mejores condiciones, nuestro embalajes estan hechos con el máximo esmero, todos nuestros envios, tambien estan asegurados en caso de extravio o rotura.
Surely many of you know our physical store, many of the fans of Vintage HiFi and collecting has visited us. Because many of our friends can not visit us by distance, we decided to strengthen our website, so you can see our products almost coughing from your devices, so if you see something that may interest you, you can place your orders comfortably from your house.
At the time of placing your order, we will make the shipment quickly so that you can enjoy it as soon as possible in your home.
Our delivery service works every day in order to send your orders in 48 hours or less. With the purpose that the material arrives in the best conditions, our packages are made with the utmost care, all our shipments are also insured in case of loss or breakage.
Hay existencias