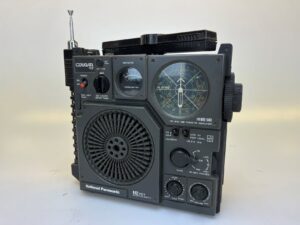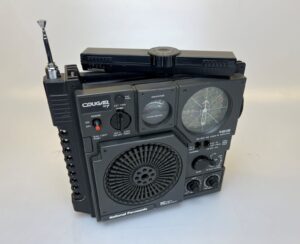 National Panasonic Cougar no7 RF-877
220,00€
Descripción
National Panasonic Cougar no7 RF-877
Full working, very good condition all segments of the antenna are in p'erfect condition
Number of Transistors: 12
Main principle: Superhet with RF-stage
Tuned circuits: 6 AM circuit(s)     8 FM circuit(s)
Wave bands: Broadcast, Short Wave plus FM or UHF.
Power type and voltage: Batteries / addl. power jack / 4x 1.5 / 6 Volt
Loudspeaker: Permanent Magnet Dynamic (PDyn) Loudspeaker (moving coil) / Ø 10 cm = 3.9 inch
Material: Plastics (no bakelite or catalin)
Dimensions (WHD): 230 x 220 x 90 mm / 9.1 x 8.7 x 3.5 inch
Notes: National-Panasonic Cougar No7 RF-877, FM Wide Band FM-MW-SW Tuned RF Amplifier, IC FET Integrated Circuit;Japanese domestic version. Starts with 76 MHz up to 108 MHz. SW: 4 – 12 MHz.
Tuning/batt. meter, cycle scale, dial light, turnable ferrite bar – gyro ant., AFC & loudness, tone & RF gain control, 120 minutes on.off timer, ext. 6 VDC in, ranger/military look.
Nuestro servicio de entrega funciona cada día con el fin de haceros llegar vuestros pedidos en 48 horas o menos.
Con el proposito de que el materia llegue en las mejores condiciones, nuestro embalajes estan hechos con el máximo esmero, todos nuestros envios, tambien estan asegurados en caso de extravio o rotura.
Surely many of you know our physical store, many of the fans of Vintage HiFi and collecting has visited us. Because many of our friends can not visit us by distance, we decided to strengthen our website, so you can see our products almost coughing from your devices, so if you see something that may interest you, you can place your orders comfortably from your house.
At the time of placing your order, we will make the shipment quickly so that you can enjoy it as soon as possible in your home.
Our delivery service works every day in order to send your orders in 48 hours or less. With the purpose that the material arrives in the best conditions, our packages are made with the utmost care, all our shipments are also insured in case of loss or breakage.
Hay existencias