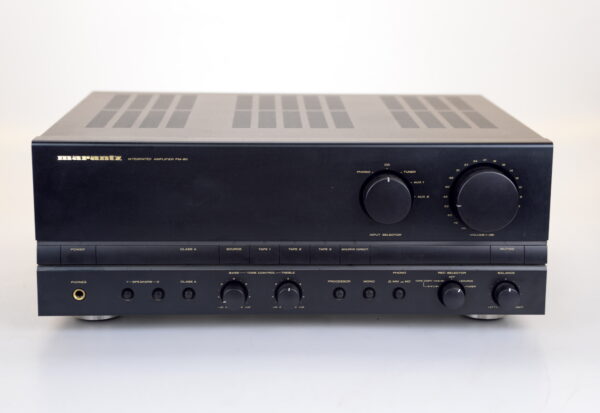 Marantz PM-80 Amplifier Class A Used
Descripción
Marantz PM-80 Amplifier Class A Used
In addition to a large-sized power transformer, the special edition electrolytic capacitor of 18,000 micro Fx2 is adopted as a power-source part.
Moreover, the OFC line of a very thick is adopted as a speaker circuitry or a power cord.
In order to stop the rectification noise generated when changing an alternating current into a direct current, the noise-killer circuitry is carried.
The RF noise near 1MHz is intercepted from several 100kHz, and reservation of the tone quality without muddiness is aimed at.
Furthermore, it has succeeded in increasing a low-pass feeling of power by lowering the primary side circuit impedance of a power source.
Moreover, the noise is thoroughly eliminated by leading about and the careful circuitry of a product line.
A power stage is the stream composition which made the power transistor of Pc-100W which was rich in the linearity the parallel push pull, and is raising the gain as a three-step Darlington connection.
Moreover, the copper shielding board was mounted on the power transistor, the radiation from a transistor and an oscillation were suppressed, and the influence on a very small signal is eliminated thoroughly.
Power output: 100 watts per channel into 8Ω (stereo)
Frequency response: 10Hz to 70kHz
Total harmonic distortion: 0.008%
Damping factor: 150
Input sensitivity: 0.25mV (MC), 2.5mV (MM), 150mV (line)
Signal to noise ratio: 72dB (MC), 86dB (MM), 96dB (line)
Channel separation: 65dB (line)
Dimensions: 420 x 146 x 334mm
Weight: 13kg
Year: 1991
Nuestro servicio de entrega funciona cada día con el fin de haceros llegar vuestros pedidos en 48 horas o menos.
Con el proposito de que el materia llegue en las mejores condiciones, nuestro embalajes estan hechos con el máximo esmero, todos nuestros envios, tambien estan asegurados en caso de extravio o rotura.
Surely many of you know our physical store, many of the fans of Vintage HiFi and collecting has visited us. Because many of our friends can not visit us by distance, we decided to strengthen our website, so you can see our products almost coughing from your devices, so if you see something that may interest you, you can place your orders comfortably from your house.
At the time of placing your order, we will make the shipment quickly so that you can enjoy it as soon as possible in your home.
Our delivery service works every day in order to send your orders in 48 hours or less. With the purpose that the material arrives in the best conditions, our packages are made with the utmost care, all our shipments are also insured in case of loss or breakage.