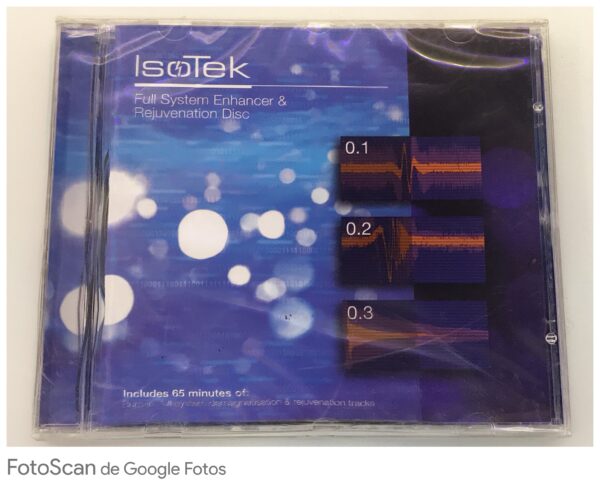 Isotek Systems Full System Enhancer CD NEW
18,00€
Descripción
NEW
Background & Overview
The IsoTek vision has always been to create high quality products that improve the performance of a complete audio or home theatre system. This has certainly been true of our award-winning range of power management systems. The IsoTek Full System Enhancer furthers our commitment. The Full System Enhancer will not only burn-in and demagnetises but also rejuvenates your audio system allowing it to function at its optimum level.
Overview
It is important to exercise the system across the full range of frequencies and amplitudes it may encounter in real life, and to this end the tones on this disc have been devised to cover the audio band from top to bottom, also ensuring that, for instance, high amplitude signals are combined with high speed ones.
There is good reason for the various signals and tones on this disc bearing no relation, perceived or calculated, to music. At first sight, the problem of burning in a music system may seem to call for some kind of signal that resembles music in certain specifics but somehow 'works faster' in exercising and/or settling down the various components within the system. But while such a signal can be generated, it doesn't burn equipment in very fast and doesn't address the rejuvenation function either.
We have looked at the problem from a slightly different perspective. At the risk of oversimplifying a complex situation with a faintly absurd everyday metaphor, what the equipment needs is a good aerobic workout with some nice taut stretches and bends. In electronic terms, the required signal features lots of high-speed activity coupled with some high-amplitude excursions. All of these signals have been produced according to strict mathematical criteria so as to place the greatest stress on the important parts of a system – WITHOUT, it is important to note, endangering any part of it. If this disc is played at normal listening levels (volume control set as for your favoured listening material) there is NOTHING in it that will damage any normal music system. Raising the volume level higher will NOT improve the disc's performance. If you play our disc at extremely high volume levels we will not be held responsible for damage that may occur.
"Burn-in and conditioning CDs for Hi-Fi systems are not exactly news. But IsoTek have taken note of all the various offerings and evolved perhaps the most sensible and complete version available. Simple, sensible and supremely cost effective, what more could you require?" Roy Gregory Hi-Fi+
Tracks
The Full System Enhancer features three tracks. 0.1
(30 minutes) and 0.2 (30 minutes) are similar, with the second being optimised for systems with large loudspeakers and/or subwoofer(s). In general, use 0.1 for most stand-mounted speakers, 0.2 for floor-standing models, except perhaps the slimmest.
The differences are neither profound nor dangerous, but the benefits of 0.2, in the right situations, we have found to be audible. The last few minutes of each track are intended specifically for system demagnetising and we DO advise that playback of each track should be performed in full.
Track 0.3 (5 minutes) has been specifically developed as a quick 'spruce-up' for the hi-fi, consisting of a little of the 'hi-fi aerobics' from the start or Tracks 0.1 and 0.2 followed by a slightly less comprehensive demagnetisation regime which, however, should be quite adequate to redress any ill effects accruing over a day or two's use or disuse.
Specifications
There are three tracks on the Full System Enhancer these cover:
Track 0.1: Full system burn-in & demagnetisation.
Track 0.2: Full system burn-in & demagnetisation with low level tones.
Track 0.3: Full system rejuvenation, including demagnetisation tones.
Hay existencias