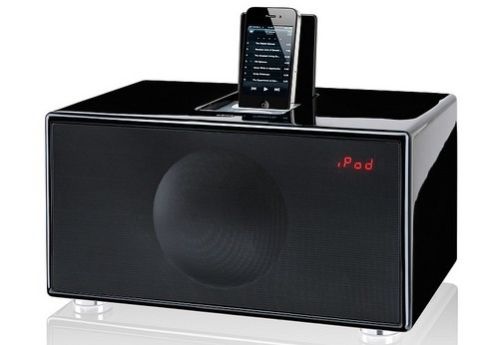 Geneva Model M (Apple 30 pin) NEW (ex-demo)
Geneva Model M (Apple 30 pin) Negro
Descripción
Product Description
GENEVA's motto, "simplicity sounds better," is the answer to the question of whether electronics have to be ugly and complicated. The Model M cabinet is a strikingly seamless design statement that disguises the power and versatility of the hi-fi system hidden inside. The cabinet's woodworking features traditional intarsia techniques to create the subtle radius corners, and the hand-finished lacquering is superb. Tucked underneath a flip-up lid are the controls that make hi-fi easier and more attractive. The backlit TouchLights brighten on contact and allow full control of the menu system of an iPod or iPhone, a level of usability not found in rivals. There's also an FM radio with digital tuner, and a programmable clock with alarm. A line-in jack allows you to connect anything from a turntable to a television. Not quite 8 inches high, the Model M has a full stereo array that rivals the power of bulky multi-box component systems. Each speaker is powered by its own dedicated digital amplifier. These digital amps are also incredibly energy efficient, drawing less than 20% of the electricity burned by conventional stereos – which is why GENEVA was named first in Metropolis magazine's list of top new sustainable products.
From the Manufacturer
The Geneva Sound System Model M is a complete bookshelf sized stereo system crafted in a single cabinet made out of piano lacquered wood. The compact system houses two (left & right) separate Hi-Fi speakers and uses patented technology to deliver true stereo imaging. Driven by a powerful digital amplifier, it delivers an audio performance that competes with much larger conventional Hi-Fi systems.
Many functions are integrated into one compact cabinet not even 20 centimeters high, including an iPod/iPhone Universal Dock (30 pins), a digital radio tuner with presets, and a line-in jack. Each speaker is individually powered and chambered for accurate acoustics. You'll discover that the Model M is the easiest multi-function stereo ever.
All-In-One Sound System
Geneva Sound Model M features two full-range 4″ woofers and two 1″ tweeters, driven by four Class D digital amplifiers that are extremely efficient, with low power consumption. Each speaker is individually powered and chambered for accurate acoustics. Two bass ports with dynamic loudness provide surprising punch for such a small system.
The Model M can dock and charge virtually any model of iPod, iPod nano, iPod touch, iPhone, and iPad. Dock adapters are included to fit your device.
In addition to playing your favorite iPod or iPhone tunes, the Model M includes an FM radio as well as a 3.5mm line-in jack to connect any audio player or laptop using a male-to-male 3.5mm cable.
LED Display with Clock and Alarm
An LED display shows volume, mode, track, and frequency information as well as the time. The clock has a built-in alarm, and the digital FM radio features six presets to store your favorite stations. Control is all with the backlit, touch-sensitive TouchLight controls, or use the included IR remote control.
What's in the Box
Geneva Sound Model M, remote control, iPod Dock Adapters for iPhone models, AC power cable, external FM wire antenna, 3.5mm adapter cable for stereo line-in, warranty.