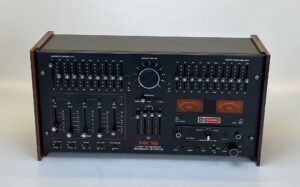 Galactron MK16 with quadraphonic decoder
750,00€
Descripción
Galactron MK16 with quadraphonic decoder
The MK16 is the answer to dreams of those who love music and desire perfection. for those who are able to appreciate that little fundamental difference.
An optional accessory INCLUDED contains a quadraphonic decoder to render the rear channels operative and includes two VU Meters for their control, thus transforming the MK16 into a complete quadraphonic pre-amplifier.
Behind the numerous knobs and controls, the severe looking black panel of unmistakable professional appearance, the MK16 has within it literally a mine of detail only to be found in a piece of equipment particularly developed in every minute part.
It contains nothing that is useless and everything has its precise function especially created according to coherent design. Appearance is subordinate to human preference, class is the result of consequence, and modestly the Galactron MK16 has both these characteristics.
The Pre-amplifier has five mixable inputs, each one controlled by a slider potentiometer and exclusion switch. Each input has its own insertable modular pre-amplifier equaliser, available for any particular equalisation curve.
The tone control section has two graphic equalisers having ten spot frequencies with exclusion switch and two steep slope filters for high and low frequencies.
The volume control includes a physiological compensation for a nominal listening level which can he excluded as desired and naturally there is the possibility of connecting two tape recorders for making copies with simultaneous monitoring of the recorded information.
An original slider control allows passing from the Stereo position to Stereo Reverse in a continuous fashion through a central Mono position thus permitting a perfect spacial balancing of the sound image.
The output section is fitted with four level controls, two for front channels and two for the rear, and are used for the desired balancing.
There are two VU Meters which are normally active only for the front channels, left and right.
Specifications
Frequency response: 20Hz to 20kHz
Total harmonic distortion: 0.1%
Input sensitivity: 0.775mV (mic), 0.775mV (MM), 77.5mV (line)
Signal to noise ratio: 78dB (mic), 78dB (MM), 82dB (line)
Output: 1.5V (Pre out), 8V (Pre out Max)
Seguro que muchos de vosotros conoceis nuestra tienda física, muchos de los aficionados al HiFi Vintage y coleccionismo nos ha visitado. Debiso a que muchos de nuestro amigos ni pueden visitarnos por la distancia, hemos decidido potenciar nuestrio sitio web, por lo tanto podreis ver casi tosdos nuestro porductos desde vuestro dispositivos, así que, si veis algo que os puede interesar, podreis hacer vuestro pedidos comodamente desde vuestra casa.
En el momento de hacer vuestro pedido, haremos el envío rapidamente para que podais disfrutarlo lo antes posible en vuestra casa.
Nuestro servicio de entrega funciona cada día con el fin de haceros llegar vuestros pedidos en 48 horas o menos.
Con el proposito de que el materia llegue en las mejores condiciones, nuestro embalajes estan hechos con el máximo esmero, todos nuestros envios, tambien estan asegurados en caso de extravio o rotura.
Surely many of you know our physical store, many of the fans of Vintage HiFi and collecting has visited us. Because many of our friends can not visit us by distance, we decided to strengthen our website, so you can see our products almost coughing from your devices, so if you see something that may interest you, you can place your orders comfortably from your house.
At the time of placing your order, we will make the shipment quickly so that you can enjoy it as soon as possible in your home.
Our delivery service works every day in order to send your orders in 48 hours or less. With the purpose that the material arrives in the best conditions, our packages are made with the utmost care, all our shipments are also insured in case of loss or breakage.
Hay existencias