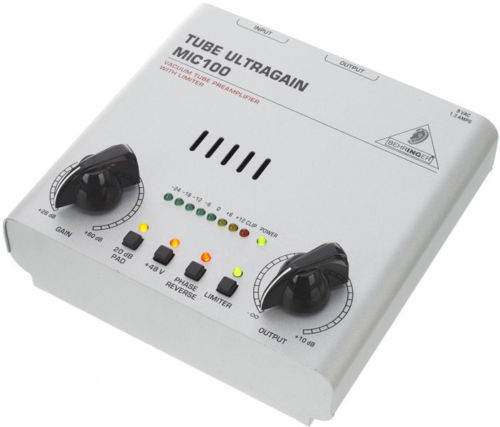 BEHRINGER MIC100 NEW
39,00€
BEHRINGER MIC100
Descripción
BEHRINGERTUBE ULTRAGAIN MIC100
High-End Vacuum Tube Preamplifier with Limiter
Tubes can really warm up a signal fast, giving it depth and character.
Though transistors have succeeded the technology, many musicians agree that tubes deliver superior sound.
BEHRINGER's TUBE ULTRAGAIN MIC100 gives anything from microphones to acoustic or bass guitars that vintage tube vibe in a dependable, affordable package.

Put A Little Tube In Your Tone
The MIC100 is perfect for studio and live applications. The balanced 1/4" TRS and gold-plated XLR inputs and outputs give you maximum flexibility in either scenario. It derives its personality from a hand-selected 12AX7 tube with UTC technology for superior tube character and low-noise operation.
The MIC100 is great for eliminating the "dull" sound of standard digital recorders and sound cards. And thanks to onboard +48 V phantom power and 20dB pad, it can also add warmth to condenser microphones. When used as a high-end DI box, you get outstanding signal integrity.
Two cool vintage-style knobs control gain and output. There's also a switch for phase reverse and a limiter to prevent overloading the MIC100. An 8-segment LED meter provides accurate monitoring of output levels.
Vintage Sound, Modern Value
The MIC100 gives you the sound quality of a vintage tube preamp at a mere fraction of what a true relic of the 1960s would cost. At a price this low, you owe it to yourself to find out where the MIC100's real tube tone can take your sound.
FEATURES:
High-end preamplification for all microphone, instrument and line-level sources; perfectly complements studio-grade condenser mics
Perfectly matches your studio, live and hard disk recording setup
Hand-selected 12AX7 vacuum tube with UTC technology for exceptional warmth and lowest noise
Ensures outstanding signal transparency when used as a high-end DI-box
Equipped with BEHRINGER's sophisticated Limiter—prevents the output signal from being distorted
+48 V phantom power, Phase reverse switch and 20 dB Pad for utmost flexibility
Highly accurate 8-segment LED level meter
Balanced inputs and outputs on ¼" TRS and gold-plated XLR connectors
High-quality components and exceptionally rugged construction ensure long life
Conceived and designed by BEHRINGER Germany
Hay existencias