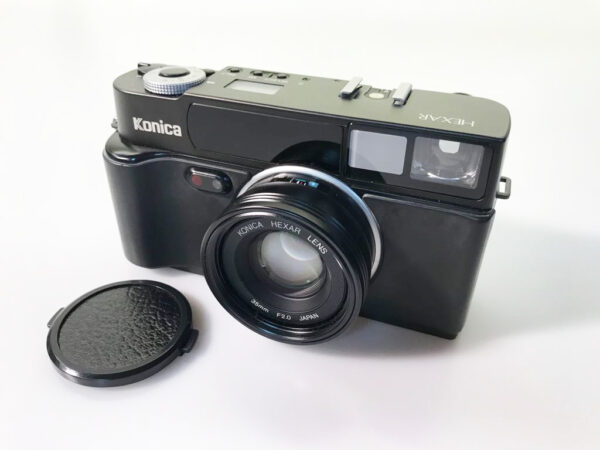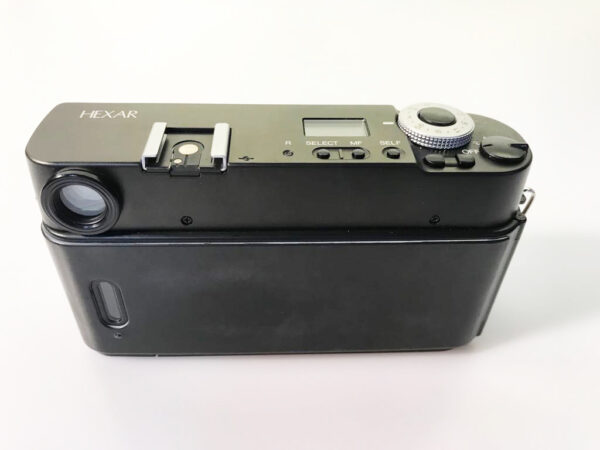 Konica Hexar 35mm f2,0 used
Descripción
Konica Hexar 35mm f2,0 used
Konica Hexar AF 35mm f2,0 film 35mm
Autofocus camera with high-speed 35mm f/2 lens modeled after the 4th-generation Leica Summicron (actually, it's a variant of the 35/1.8 Nikkor rangefinder lens design, but Summicron more accurately describes the look of the images); about the size of a Leica M6 with 35/2 lens. A heavy little beastie, all metal. Black phosphate finish on alloy body.
With its autofocus combined with Aperture or Programmed exposure modes, the Hexar AF offers considerably faster operation than any classic manual focus rangefinder, including the Leica M series.  Active infrared from 2 feet to infinity in 290 steps.   
Fixed sharp 7 element 6 group 35/2 Lens to f/22, 46mm filter.  This lens is reputed to be a near copy of the Leica non-aspheric 35/2 Summicron.  
AE Lock combined with AF lock by slightly depressing shutter release
Precise fast infrared active autofocus with mostly useless manual over-ride
Unbelievably quiet film advance in "Silent Mode" aka "Stealth" film advance
Programmed, Aperture priority, and match needle exposure 
Shutter Speeds indicated in LCD panel on top of camera 
Non-TTL Metering:  15 degree  (EV 0 – 16/ISO 100) or 4  degree (EV 3 – 18/ISO 100)spot silicon cell metering, notice the centerweighted meter is 3 stops more sensitive for low light, while the spot meter will respond to two stops higher light levels, metering cell is on front near traditional self timer location
Excellent bright viewfinder
Superb ergonomic shape, very easy to hold with the built in grip
All models have, or can be upgraded to, 

AF focusing for Infrared films

 

— adjustable for Kodak or Konica IR films.   
8/10 = Very Good; Perfect Front; Minor Flaws Elsewhere
8/10 = Muy bueno, Frontal perfecto, pequeñas marcas